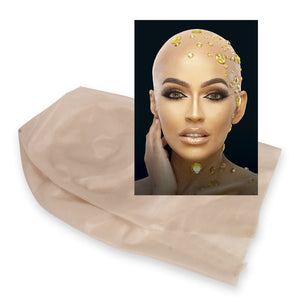 Bald Cap
146C
This professional quality, full size Bald Cap is made from natural latex for a perfect fit. These caps are used by makeup artists worldwide for stage and screen performances.
How to use this product:
Dampen and slick hair back. Fit Bald Cap over the head beginning at the front and pull back to nape area. Cut latex carefully 1/4" to 1/2" beyond the hairline. Fold Bald Cap edge up and apply Spirit Gum to the edge of the cap. When Spirit Gum becomes tacky, flip and gently press into skin and allow to dry completely.
Tip: To finish the application of the Bald Cap and complete the transformation, use Mask Cover Makeup to blend the edges and match the skin.
One size fits most. Bald Cap is good for one time application, not reusable.
---