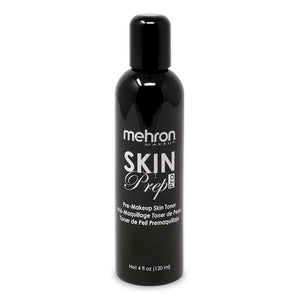 Skin Prep Pro™
190
SKIN Prep PRO™ is a clear, fragrance-free liquid for use on all skin types prior to makeup application. Developed and used by industry professionals, it allows makeup to last longer under stressful conditions. During an active day, SKIN Prep PRO™ acts as a moisture barrier between the skin and your makeup to maintain that sought after fresh finish. Even under the most extreme conditions, your skin feels fresh and continues to look great hour after hour.
• Extends Makeup Wear
• Advanced Moisture Barrier
• Great for all skin types
• Trusted Ingredients Made in the USA
Available in a 4 fl. oz. (120 ml) bottle with anti-spill spout or 0.5 oz bottle.
How to use this product:
Sponge SKIN Prep PRO™ lightly on skin and allow to dry thoroughly before applying Celebré Pro-HD™ Makeup Foundations.
---